If you've told your friends about the fantastic French tutor you've had through us and they fancy brushing up on their skills, why not send them £25 to get started? And if you've not told them yet, what are you waiting for? If they're not a linguist, no problem! We have thousands of tutors who work with us and offer a huge variety of subjects.
It's so easy to earn lesson credit with us, every time you refer a friend to Tutorful using your unique referral link, they'll receive £25 credit towards their first paid lesson and you'll get £25 towards your next one once they've booked their paid lesson (Free Video Chats are not eligible for referral credit)!
There's no limit on how many friends you can refer to Tutorful, so share the love with your friends and family! ❤️
To refer a friend through the site
Log into your Tutorful account and from your Dashboard, just hit the yellow banner at the top of your screen:
When you're there, all you need to do is either enter your friend's email address and click Send or you can send your referral link to them! You also have the option to share it across your social media.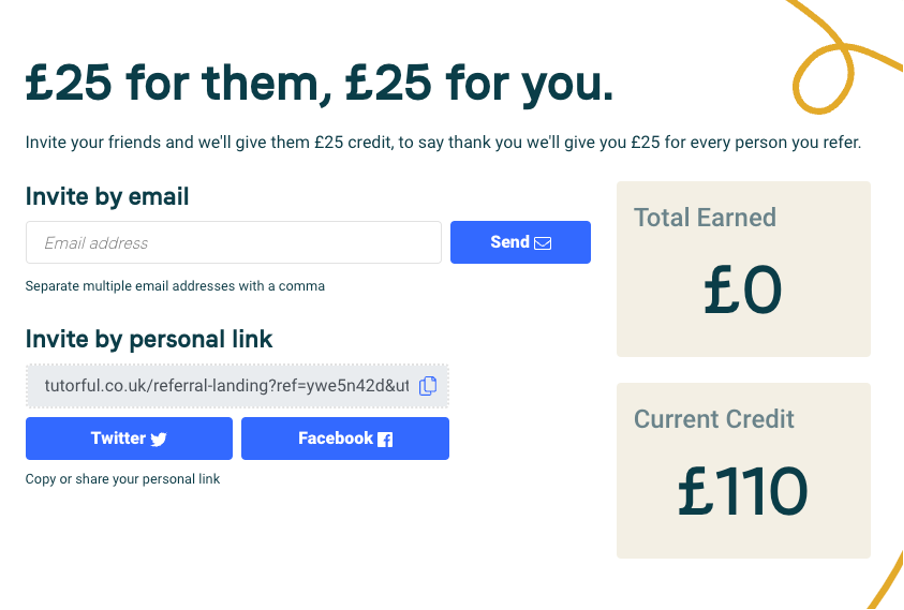 To refer a friend from the app
Just open your app and open the 'Earn Credit' page in the bottom right-hand side!