What is keyword search?
We've introduced a new filtering option on our tutor search results! Keyword search is a tool that allows students and parents to seek out tutors with specific expertise, essential qualities, or qualifications beyond the essential filters (subject, price, availability).
What are some examples of keywords to search for?
Genres or subcategories within a subject



If you are looking for a specialised music tutor, try entering keywords such as "Jazz" or "Rock" to narrow down to the specific type of music you wish to learn.



Exam boards and qualifications



If you are seeking a tutor who specialises in a specific type of exam board, such as a GCSE Maths tutor who has experience working with the AQA exam board, then try entering "AQA" to find the right specialised tutor.



Tutor qualities and characteristics



If you know that you work best with a more supportive approach to learning, try entering adjectives such as "Friendly" or "Patient" in the keyword search.



How do I use the keyword search?
On the left-hand side of the search results, you'll see the option to include a keyword in your search criteria: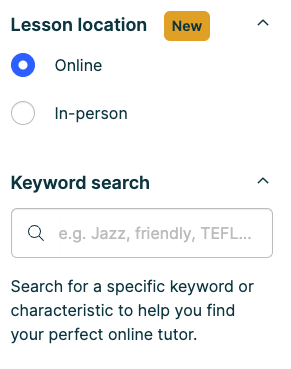 The search results will then prioritise tutors that have any keyword featured somewhere on their profile bio - it's that simple!