If you would like to learn more about how to use the online classroom, as well as troubleshooting tips, you can watch our online classroom seminar recording here!
Online tutoring is a fantastic way to get connected with students and allows you to teach from within the comforts of your own home. With Tutorful, you'll be able to accept students from across the UK and have lessons through our online classroom inbuilt into the Tutorful website.
Using a webcam and microphone you will be able to see and hear your student, and there are loads of useful tools, including an interactive whiteboard, which allow you to share documents with your students to enhance your lessons.
Trying out the Online Classroom
All online lessons booked on our system creates a private classroom for you and your student to enter at the scheduled time. We highly recommend familiarising yourself with the classroom before teaching a real lesson, as you will be able to test your internet browser to ensure it's all set up, trial the different features available, and contact us if you have any questions. To do so, simply select "Demo Online Classroom" from the drop-down underneath your name in the top right of the website or from your 'Teaching preferences'.
Booking and joining your first online lesson
To book your first online lesson, simply select 'Online' as the lesson location. At the time of the lesson, you will be able to join the lesson through your dashboard, or through the lesson booking itself when viewing the lesson details - you can see how to do so below!
Students: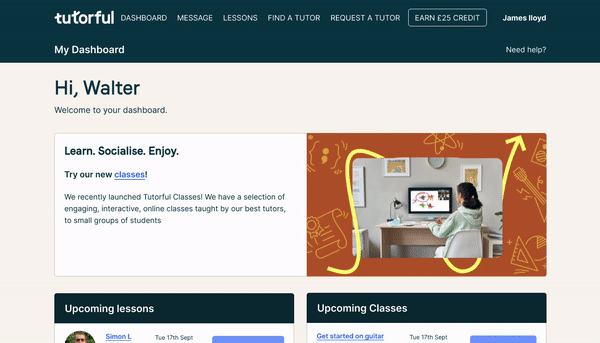 Tutors: