Unlike other tuition sites, there's no need to pay for a tutor's contact details at all - we don't think that's fair. Instead, you only pay for the lessons you have on a pay-as-you-learn basis.
Our on-site messaging system allows you to chat to as many tutors as you'd like to help you find the perfect tutor for you. You can ask them any questions that you have and, if you're happy, organise the details of tuition together. Many of our tutors will offer a trial lesson at a reduced cost if you need a bit more reassurance before going ahead with lessons together.
Once you've agreed on the details of a lesson or a trial lesson, your tutor will book that in for you. You'll just need to confirm the booking and then we'll send you and your tutor each others' phone number and email address so you can iron out the finer details or share practise material/assignments to be studied.
Once you've confirmed the lesson, you'll also be able to see your tutor's contact details through your account. To find them, head to your messages with that tutor - in the top right-hand corner as shown below: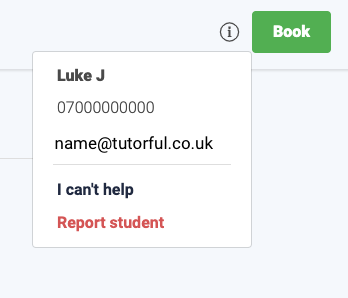 Our automated app and email notifications mean that this is all an exceptionally speedy process! By keeping all of the messages on the site, we can ensure that every student finds the right tutor for them.