So you've found a tutor's profile that you think may be of interest to you! You can now either request a lesson with the tutor, or you can send them a message if you're not quite ready to book yet.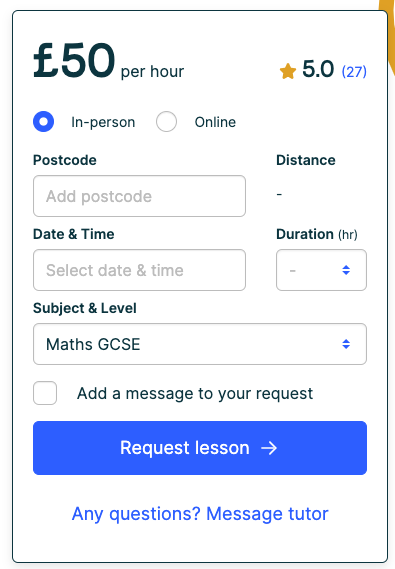 .
Request a Lesson
If you decide you're ready to 'Request a Lesson' you can select your desired date, time and duration of the lesson from the availability that your tutor has displayed.
If the tutor is available to help they will book a lesson, either at the time you requested or an alternate time when you have said that you're available. Once you have confirmed you are happy with the time and date of the lesson you will be asked to enter your bank details. Your lesson will then be booked in and appear in your "Upcoming Lessons" tab. Payment will not be taken until 24 hours after the end of your lesson.
Send a message
If you're not ready to book a lesson straight away, you can choose to send a message to the tutor instead by clicking on the 'Any questions? Message tutor' button. The tutor's response and your original message will appear in your messages where you can have a discussion to see if they're available to help. Any further messages will also be displayed here.